Endorsements & Testimonials
Lt. Col. Dave Grossman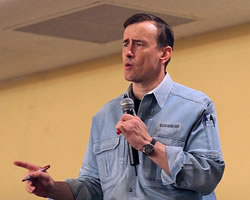 It is my honor to give my personal endorsement and support for the great training endeavors being conducted by my good friend, Jay Johnson. He is running a world-class training operation!
I have been able to work extensively with Jay, conducting a series of law enforcement training presentations in partnership with him, I have come (to) know him personally during these endeavors, and it is my sincere pleasure and honor to take this opportunity to endorse and support his training endeavors. Jay, good luck and God bless in this, and all your endeavors, my brother sheepdog and fellow warrior-trainer!
And you can quote me on that!
Dave Grossman, Lt. Col. USA (ret.)
Author of On Killing and On Combat
About Lt. Col. Dave Grossman
Col. Grossman is a former West Point psychology professor, Professor of Military Science, and an Army Ranger who has combined his experiences to become the founder of a new field of scientific endeavor, which has been termed "killology." In this new field Col. Grossman has made revolutionary new contributions to our understanding of killing in war, the psychological costs of war, the root causes of the current "virus" of violent crime that is raging around the world, and the process of healing the victims of violence, in war and peace.
Learn More:
---
Additional Testimonials
1"Jay is very passionate about his job and I could tell he really put forth his true emotions and made the class very interesting. He loves what he does and it was great to see. The real life stories made it more interesting! I would enjoy listening to him again! Awesome job Jay Johnson!"
2"I absolutely would recommend it (the course). I want all teachers and administrators to take the course."
3"Great course, very pleased, great instruction and knowledge. Well worth the time and money."
4"Jay uses lots of real-life examples and makes it interesting. Jay is a great presenter."